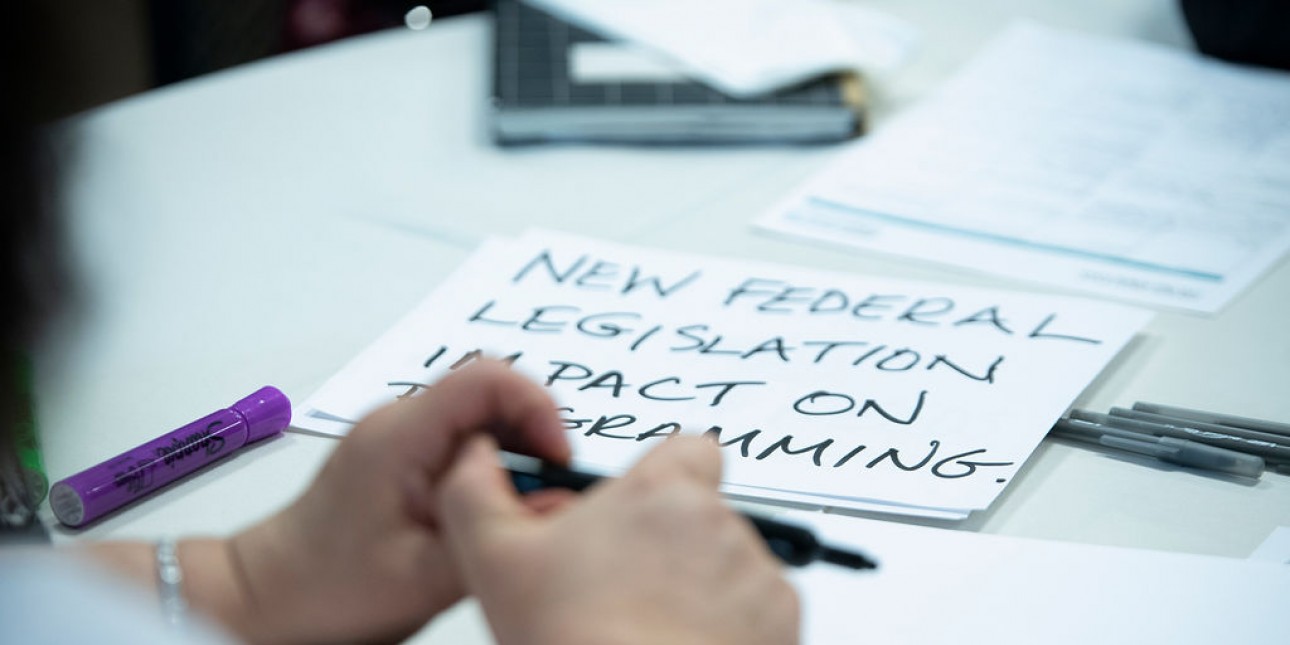 The collective need.
Each year, Congress must decide how to allocate money for discretionary programs, which is funding that is optional and implemented under an appropriations bill. Discretionary funding includes determining funding levels for programs and services that support the youth we serve. Given the growing number of demands for scarce public dollars, it is essential that Congress hear from the experts and organizations that are working on the streets and in our local communities.
Our unified response.
In response to this need, Youth Collaboratory created the Advocacy Initiative in late 2016. This Initiative is a joint effort to build a strong collective of key allies who are well-positioned to protect critical funding sources. By leaning on the expertise of our local members, we educate policymakers through this Initiative by:
Providing focused messaging on national trends and current events - translating local developments into national policy and vice versa;
Coordinating face-to-face meetings with key Members of Congress and their staff; and
Building strategic relationships with decision-makers at all levels, leveraging the collective strength and knowledge of our membership to improve federal policy.
Each year, Youth Collaboratory prioritizes its advocacy efforts to focus on the critical issues identified by our member organizations. In 2019-2020, Youth Collaboratory will focus on:
Increase funding for the Runaway and Homeless Youth Program.
Increase funding for the Youth Mentoring Program.
Secure a fifth round of full funding for the Youth Homelessness Demonstration Program.
Secure a full reauthorization of the Runaway and Homeless Youth Act, including programmatic changes and robust funding.
Provide effective advocacy tools and timely knowledge to Youth Collaboratory Advocacy Initiative stakeholders.
Respond to emerging public policy crises, as necessary.
How you can help.
Advocacy Initiative Stakeholders invest in Youth Collaboratory's advocacy agenda and are committed to advancing federal public policy and funding to meet the needs of the youth development field, and the children, youth, and young adults we serve.
Benefits for Advocacy Initiative Stakeholders:
A dedicated, experienced team working year-round to advance the federal funding and policies important to your work.
An advocacy welcome packet, including suggested FY20 speaking points for the federal funding relevant to your organization.
Access to "Public Policy Office Hours."
The opportunity to apply to be part of the Youth Collaboratory Advocacy Action Committee.
Policy updates and alerts on relevant issues.
Complete this form if you are interested in learning more about our Advocacy Initiative and the benefits of becoming a Stakeholder.
Information for every day advocacy.
We also support the field in becoming every day advocates – providing access to experts and colleagues that can help organizations tell their story and move the conversation forward. Check out our Government Relations Blog Series: