Career Opportunity: Youth Collaboratory's Operations & Events Coordinator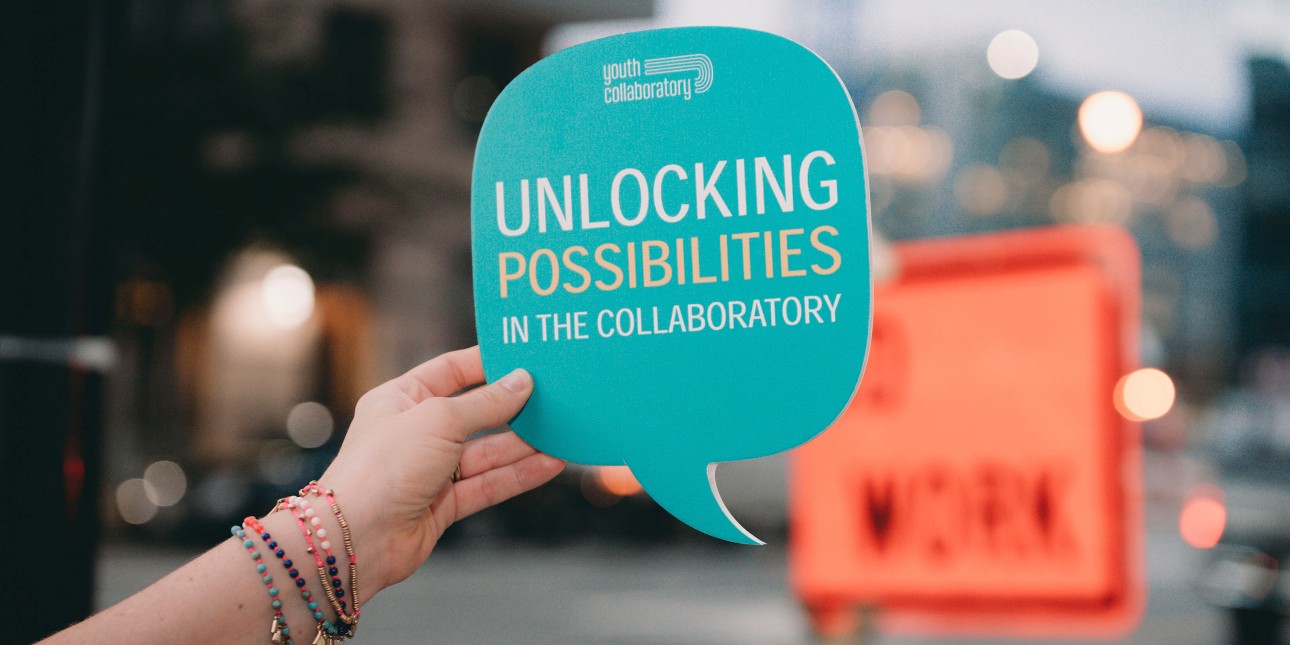 Overview
We're looking for an organized, adaptable, problem-solving master communicator to be Youth Collaboratory's Operations & Events Coordinator.This person will run our physical and virtual offices and ensure the smooth coordination and operation across all projects. We're looking for someone who is able to rapidly assess changing circumstances, is quick to spot conflicts, and loves to develop strategies that improve operations. This is a great opportunity for someone who knows how to structure their communications in a way that moves people to action, familiar with more than one way to manage multiple tasks, a track record of successfully engaging with people, a profound love for problem solving, and an interest in helping Youth Collaboratory build its network of organizations affecting REAL change in the lives of youth.
About Youth Collaboratory:
Youth Collaboratory harnesses the power of the youth services field to innovate, evaluate, and drive effective strategies that assure the safety and well-being of youth and young adults, unlocking their limitless potential.
Our greatest strength lies in our ability to engage and retain a dynamic network of hundreds of organizations across all 50 states. Together, we are able to advance the work of communities in real-time, raise the level of conversation around key issues, increase cross-sector communication, drive national research and increase support. In the last few years, our network has experienced significant growth – attracting innovators in practice, funding and research and our core membership has grown 450%. But to make the kind of difference we want to make, we need to build our ability to streamline and synchronize our everyday activities.
That's where you come in.
What you'll do:
Work with Project Manager to ensure timelines, tasks, and logistics are completed for various online and in-person events. This includes event related research and management of registration, contracts, consultants, evaluations, etc.
Coordinate with our national programs team to flawlessly execute various initiatives.
Manage general interactions of members and other partners with our national headquarters. This includes phone, email, and virtual/in-person tools.
Ensure smooth operations of our virtual and physical offices. This includes ideating and strategizing new ideas related to organizing and streamlining operations

Our ideal candidate:
Has at least 2 years of experience working in an administrative capacity that demonstrates excellent communication and proficient multitasking skills. You have the talent to create written documents with clearly organized thoughts using proper sentence construction, punctuation and grammar.
Able to effectively communicate directly through multiple mediums. You know how to structure an email to get exactly the response that you wanted and you know how to switch up your technique when dealing with strong, as well as delicate, personalities.
Has excellent customer service skills. No explanation needed.
Has exemplary scheduling, time management, and organization skills. You can independently develop clear processes to complete complex tasks.
Can organize and coordinate small or large events. You may love to travel or even plan "bucket list" trips. At a minimum you have been on an airplane and know how to organize an itinerary.
Fast-moving, scrappy, and creative. Change doesn't scare you, it drives you. You can successfully anticipate and resolve conflict. You like to work on a timetable of days and weeks, not months and years. You can make anything work with a little duct tape and creativity.
Connects to Youth Collaboratory's mission and wants to work for a company that believes in innovation, authenticity, and having fun.
Computer-savvy. You know when Excel is a better tool than Word and can quickly learn new support software if needed.
Is cool…with working in a virtual and physical office environment. You can work collaboratively and communicate effectively via any medium — Adobe Connect, Google Hangout, or email.
Bonus Skills/experience:
Experience with online meeting platforms, such as Adobe Connect.
Experience with customer-relationship management software, such as Salesforce.
Perks:
Take vacation when you need it. We hire competent people who do great work and encourage you to take a break when you need it. We ask employees to take three weeks of vacation per year, and provide a $1,000 vacation bonus that can only be used if you are really off, so you can come back fresh.
You're encouraged to have a life and a family (if you want one). We offer a generous supply of holidays and personal leave combined with health benefits.
Awesome team. You'll be collaborating with a brilliant team that's having real impact. If work like this makes you want to want to get out of bed each morning, you should definitely apply.
Start Date
We're looking to fill this position as soon as possible.
Location
Pittsburgh, PA
Equal Opportunity
Youth Collaboratory is an Equal Employment Opportunity employer and is committed to attracting a wide range of diverse candidates. We believe one of our greatest advantage is the diversity of ideas, experiences, and cultures our network of staff, field contributors and members provide.
How to apply:
Submit a resume along with the following short-answers to jobs@youthcollaboratory.org.
Please provide a short answer to each of the following questions (no more than 1-2 paragraph per question):

What's your superpower? What sets you apart from others?

Describe a previous work experience in which you identified (or anticipated a problem and solved it).

If you could ask three questions about our current systems and processes, what would they be?

Have you ever figured out how to use a new tech system or software on your own? Tell us about it.

How would you find a venue to host a meeting for 18 people? If there was no budget for food, how would you feed those people?